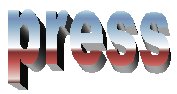 i am building up a small archive, if you have any requests, or want to submit an article, email me thanks to sam for finding most of these.
Rock On, London
my review of maladroit . August, 2002 . Two Fans, Two Reviews
check out two newsgroup jerk's (myself and chris flood) review of the new album . April 22, 2001 .
The Kitchen Tape
i wrote it, do me a favor and check it out . updated september 2000
The People Vs. Weezer
Philadelphia Weekly . August 2000 . a must read for =w= fans Weezer Brace for Return
Rolling Stone.com . February 4, 2000 The Unraveling of Weezer
Alternative Press . January, 1997 . the infamous ap article
Pinkerton Review
? . 1996 i dont know where this is from but its a glowing review of pinkerton.
An Interview with Pat
RAD . (?) 1995
As Funny as They Wanna Be, Who's Laughing Now?
L.A. Times . May 21,1995
The Sassy Article
Rolling Stone . March 23, 1995
Weezer is more than just the 'Sweater-Song' band
The Tech . October 04, 1994